Piloting new ways to care for those with dementia
With 850,000 people currently living with dementia and 1.6 million people expected to develop dementia by 2040, it's more important than ever to get the right care in place so people can live well with the condition.[1]
We spoke with Darren, a Dementia Support Worker for Alzheimer's Society from North Devon, who's part of a pilot scheme aiming to make a real change in how people with dementia and their families are supported.
Hi Darren, can you tell us a little bit about your role and what you do?
I'm a Dementia Support Worker in North Devon and I'm part of a team of about 10 or 11 strong, and my patch is a village called Fremington. Our specific role there is to look after all registered dementia patients at the surgery.
What we would do pre-Covid is work from the surgery and they would book a series of appointments in, just as like if they were coming to see the doctor. Our appointments would typically last about an hour. We would go through current progress, current state of health and wellbeing and offer advice accordingly from there.
We also link up with the local hospitals. Each one of the team on a weekly rota will attend what's known as post-diagnostic clinic, where we will attend the hospital with a prescribing nurse. We're like the conduit for next steps, so we will meet the patient that has just been diagnosed with dementia together with the prescribing nurse at the hospital and talk about next steps and introducing them to the service.
How does the pilot differ from the support offered by other Dementia Support Workers?
The pilot is unique because we have such a close working relationship with the older people's mental health team. We have a conference call weekly with them to discuss internally patients and next steps, and if they can go out and see them and whatnot, so whilst there's a lot of external support, the same people are supported internally amongst the professional team on their best next steps from the professional viewpoint. That can include GPs being involved, we've had people from the hospital, we've had community partners being in the team meetings, like Devon Carers and Care Direct too, so the network is quite wide.
We also have a smaller case load than average, and that means we can really focus deep in terms of signposting, helping, knowledge base in terms of power of attorneys, all the legal stuff, all the financial stuff, looking at cognitive stimulation, physical stimulation, looking at all the clubs and societies (pre-covid) that are open, we can even take people there occasionally or meet people there, just to get them integrated into that environment. So we can go a little bit further, is a better way of putting it, than some counterparts can because they've got so many more on their caseload, they're having lots of phone calls, so they're doing signposting and review calls maybe once every six months, and we're keeping regular contact.
What kind of support can the Dementia Support Workers in this pilot offer?
Those diagnosed with dementia are all invited to come onto our books so to speak and join the service that we provide. So, particularly for new clients that come onboard, we can actually almost hold their hand for a long time and go to levels that previously perhaps other organisations haven't been able to. We can look at advising on best places for power of attorneys, for claiming attendance allowance, and therefore then reduction of council tax. We can look at signposting and introducing to other community partners – people like Care Direct, Devon Carers in our patch here, also the fire service is an intrinsic part of our role and we have a partnership agreement with them – also, day care centres, respite centres, memory cafes and all of those kinds of things. Pre-covid, we could even take them there for the first week or so to get them introduced to the people there, so there's a lot to the role.
All that deep dive stuff is perhaps more unique to North Devon because we are in a privileged position where we're being commissioned for this pilot to go that extra mile.
Everything that I have explained, right from the introduction at the hospital when they've just been diagnosed with dementia, we can literally walk them through it. We go to stages like power of attorneys, signposting for allowances and carer allowances, and we can be in weekly and sometimes daily contact.
If you're living through it and you've got someone there at the touch of a phone or that can come in say next week, you can gradually learn and build your knowledge base on how to deal with that as a family, as a person living with dementia, so we're kind of adapting to how they adapt too. It's not just: here's the details and see you in 6 months with us. Although we do offer that, if people want it. It's very much adaptive to them.
But with the project here, we've been commissioned again for another 12 months because of the success of it, so all of the GP work is unique to us because we've got very strong relationships. and if you take a case load of about 80 from a GP that would normally be making those dementia calls, then that's a huge amount to take from a surgery because we literally take it from the GPs and then put it all on their system as well as our own. So, the doctors can type in and see that the dementia review has been done even from a remote place where we're working at the moment.
Those kinds of things wouldn't necessarily be done all over the country, that's unique to the project here, to establish almost a working real-life scenario of what we're doing. We have to show the impact in the local community, the benefits and positives, the things that we've learnt from that all goes into a report, with loads of feedback going to the commissioners on a monthly basis. There was also a 97-page document at the end that was submitted by Plymouth University to say this is the overall outcome of the last 12 months.
There is an awful lot of research and factual evidence that goes into the work that we've done over here in North Devon.
It sounds like you're all doing incredible work. Is the plan to eventually take the pilot nationwide?
That is the hope – small steps first. Hopefully we can have another successful period, I think, then perhaps we can go to wider Devon – it's a huge county as it is – and then nationwide potentially with what we're doing here.
Over lockdown, I think where we stand is, well, we've never been so needed, and I think lockdown's proven that. Across Alzheimer's Society, our services have been used over 3.6 million times during the lockdown period and also, unfortunately, people with dementia have been worst hit in terms of coronavirus deaths. Over a quarter of coronavirus deaths have been related to those with dementia.[2] Which is a huge, huge statistic, so therefore you can see the need to use Alzheimer's Society platform in some way shape or form. You can see the benefit of us working collaboratively with the GPs, community partners, and hospitals to provide that deep dive care. We're in a very privileged position but it's also very challenging with coronavirus and specifically how it's affected those with dementia. It is a battle but it's one that we're facing.
What would you say to someone who's just been diagnosed with dementia, who isn't in North Devon?
The support is still there for them, and anyone else. We have the Dementia Connect support line where people can talk things over and get specific support from their area wherever that might be: 0333 150 3456. Every part of the country will have some service around so that would be a good starting point. They can signpost services in their local area.
Our thanks to Darren for taking the time to speak with us. We wish Darren and the rest of the team in North Devon the best of luck with the pilot scheme.
If you need dementia support, you can call the Alzheimer's Society Dementia Connect support line on 0333 150 3456 where one of their trained advisers will be able to help you out.
Looking for ways to help support Alzheimer's Society?
Right now, the coronavirus pandemic has made the challenges faced by those living with dementia and their families increasingly difficult, making the support provided by Alzheimer's Society ever more vital.
You can support them in a variety of ways.
Join Alzheimer's Society for an evening of comedy on Thursday 11th March at 7pm.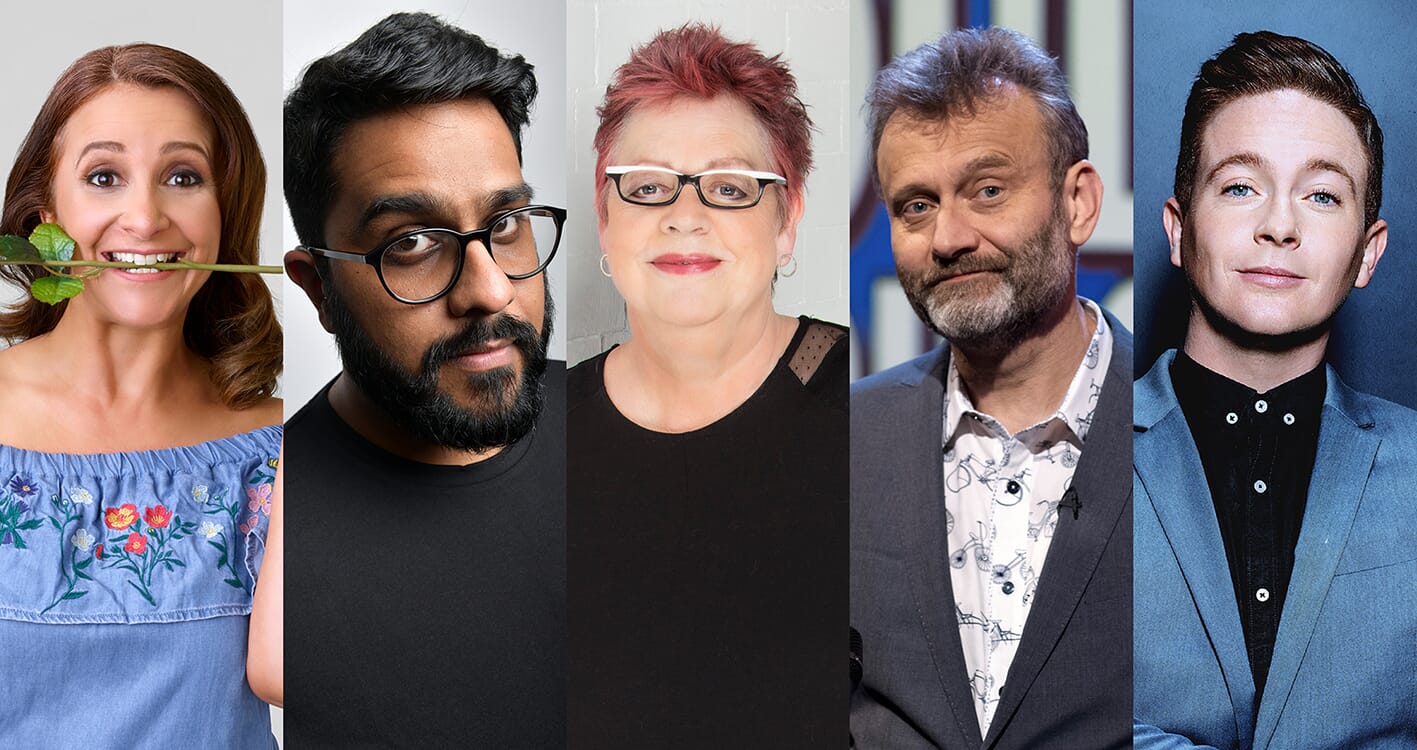 Hosted by Hugh Dennis with performances by Jo Brand, Eshaan Akbar, Stephen Bailey, and Lucy Porter, it promises to be a night of a fun and laughter.
Tickets are free! But if you can, please consider donating to this great cause.
You must be over 18 to register for a ticket but you only need one per household.
Register here for your ticket.
Financially
Like many charities, the Alzheimer's Society are facing a funding shortfall. Social distancing has made it impossible for them to run many of the events they rely on to raise funds and economic difficulties have seriously impacted people's willingness and ability to give. They've lost significant income at a time when people living with dementia need them more than ever.
If you can, please consider donating to this brilliant cause.
Campaigning
Alzheimer's Society tirelessly campaign for better dementia care and services for all. Check out its website to find out the charity's latest campaigns and how you can get involved.
---
[1] https://www.alzheimers.org.uk/sites/default/files/2019-11/cpec_report_november_2019.pdf
[2] https://www.alzheimers.org.uk/sites/default/files/2020-09/Worst-hit-Dementia-during-coronavirus-report.pdf
Leave a Reply
You must be logged in to post a comment.